A Guide to Choosing the Perfect Slate Roof for Your Home
A slate roof can be a great investment for any home. It is long-lasting, durable, and aesthetically pleasing. But with all the options out there, how do you choose the right one?
Slate roofs come in a variety of colors, shapes, and sizes. They also vary in terms of their quality and cost. Knowing what to look for is key when it comes to making an informed decision about which slate roof is best for you.
Benefits Of Slate Roofs
Slate roofs offer many benefits, making them a popular choice for home and business owners. They are fireproof and rot-resistant, which means they last much longer than other materials. Additionally, slate is highly durable and can withstand extreme weather conditions like heavy snow and hail. Its natural appearance adds to the aesthetic of any property, making it an attractive option for those seeking a classic look. Furthermore, slate is energy-efficient and helps keep homes cooler in warm climates.
Slate roofs require very little maintenance and are easy to repair when needed. Furthermore, they are recyclable and can be reused if removed from a building correctly. This makes them an eco-friendly choice that many people appreciate. Slate roofs also add value to properties, making them an excellent investment for homeowners looking to sell in the future or increase their property's resale value. All in all, slate roofs have many advantages that make them a great choice for virtually any type of building.
Choosing A Slate Roofing Contractor
Once you've decided that slate roofing is the right choice for your home, the next step is to find a qualified contractor. Start by asking friends and family for recommendations, or search on Google for local slate roofing contractors. When you have found a few potential options, check their reviews online, and make sure they are properly bonded and licensed. You should also ask them to provide proof of insurance in case of any accidents or damages while they work on your roof.
Before you decide on a contractor, ask them to come out and inspect your roof in person. This will allow them to get an accurate assessment of how much material and labor will be needed to complete the project. Make sure that all estimates are given in writing with detailed descriptions of materials and labor costs so there are no surprises later on. Also, ensure that any warranties offered by the contractor include both materials and labor coverage. Taking these steps will help you find the best contractor for your slate roofing project.
Assessing The Quality Of Slate
When it comes to selecting a quality slate roof, it's important to consider the thickness and hardness of the material. Slate roofs are typically made from natural stone slabs that vary in size, thickness, and strength. Thicker slabs provide greater protection against weathering and environmental elements, while harder slabs offer more durability. If you're looking for a long-lasting roof, choose one with thicker and harder slate pieces.
You should also take into account any additional treatments used on the slate. Some manufacturers use surface treatments such as waxes or sealants to protect the slate from moisture and other elements. Make sure to ask about these treatments when evaluating your options so you can make an informed decision about the best kind of slate for your home.
Installation And Maintenance Requirements
When selecting a slate roof, it's important to consider the installation and maintenance requirements. Slate is a durable material and can last for many years when installed correctly. However, it's important to be aware of the additional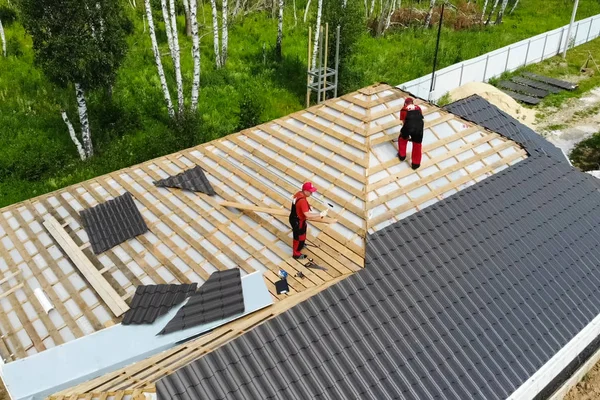 responsibilities that come with installing a slate roof. First, slate roofs require special fasteners due to their weight and should always be installed by an experienced professional. Also, they need to be checked regularly for any loose or missing slates which may affect the overall integrity of the roof.
It's also essential to have your slate roof inspected annually by a professional in order to identify any issues early on and prevent further damage. This will help maintain its durability and ensure that it performs as expected for many years. Lastly, during severe weather, it's important to check your roof periodically for any signs of wear or damage that may have occurred due to high winds or heavy rain. By taking these steps, you can ensure that your slate roof continues performing well for years to come.
Cost Considerations
When it comes to cost, there are several things to consider when selecting a slate roof. The first is the cost of the slate itself. While slate is generally more expensive than other types of roofing materials, it can last up to 200 years with proper maintenance and care. This makes it a good long-term investment. It's also important to consider any additional costs associated with installing and maintaining a slate roof, such as labor costs or repair costs. It's best to get quotes from multiple contractors in order to find the most cost-effective option for your needs.
In addition, there may be additional costs associated with purchasing insurance for your slate roof. Insurance will help protect you against any damages that may occur due to storms, fires, or other events. Make sure you understand exactly what kind of coverage you are getting and what type of damage is covered by each policy before committing to a particular one.
Contact Big Easy Roofers Today
In conclusion, slate roofs are a great choice for any homeowner looking to upgrade their roof. They offer many advantages and last a long time, but you need to make sure you're going with the right slate roofing contractor. Make sure they assess the quality of the slate and have experience installing it. Don't forget to factor in cost when making your decision. All in all, if you do your research and find the right contractor, selecting the right slate roof for your home can be a great investment that will pay off in the long run.
You should take special care when choosing a slate roofing contractor since they will be responsible for installing it correctly. You'll want someone who knows what they're doing and has worked with this type of material before. Ask them about their experience and check references if necessary.
Finally, keep maintenance in mind while making your decision. Slate roofs require regular upkeep and can be expensive to repair if handled improperly. Do some research in advance to figure out how much maintenance is required so you can plan accordingly down the road. With proper installation and maintenance, you can enjoy your new slate roof for years to come! Contact us today for more information!